If you, your child or someone you know has eczema, you might be looking for the best cream to help treat the condition.
This Polysporin Eczema Cream Review article will include whether or not this is a good treatment option for eczema and natural alternatives.
1. What is Eczema?
If you are new to eczema, then this quick intro might be worthwhile to read.
If you are an eczema warrior, you can probably skip this section.
Eczema is a condition that causes redness, rashes, and itching of the skin.
It is often caused by genetics, allergies, environmental factors, nutrient deficiency, and/or lifestyle habits.
It is very common in babies but most of them outgrow it.
But it can also occur in adults.
2. My Thoughts on the Polysporin Eczema Cream
Let me cut to the chase because this is why you are here.
The Polysporin eczema cream is great for very mild cases of eczema.
If you are someone who has not been clinically diagnosed by your Family Doctor to have eczema, then this cream can work for you.
If you rarely get eczema and this is an odd occurrence, this will work for you.
It's a great quick band-aid solution at a reasonable price to help you relieve symptoms.
However, if you suffer from eczema in multiple areas of your body, this cream won't work for you.
If you've always had eczema, this cream won't work for you.
Oh and this cream is also not safe to use every day.
Why?
Because of its main ingredient 1% hydrocortisone.
Final answer as an Eczema Warrior and Certified Nutritional Practitioner (but I highly recommend you read the rest of the review):
For very infrequent cases of eczema and/or very mild and small eczema patches: ?
For moderate to severe, eczema: ❌?
For eczema on babies, kids, teens, and adults' faces: ❌❌❌

3. What is Hydrocortisone and its potential side effects?
Hydrocortisone is in a class of medications called corticosteroids.
But what are corticosteroids?
These are man-made drugs that resemble a hormone that is produced by your adrenal glands naturally, called cortisol.
When applied topically, it helps with itching, swelling, and redness.
As someone who used these medications for most of my life and speaking as a Certified Nutritional Practitioner, these are some powerful medications.
Which is why it works so well and is prescribed by almost all Doctors and Dermatologists.
I might even say, overprescribed.
Hydrocortisone creams are meant to be used for a very short amount of time.
So when you have a very mild case of eczema, it's fine.
But what if you prescribe someone topical steroids who always have eczema and it never goes away?
Well, they can go into something called Topical Steroid Withdrawal.
According to Health Canada and living through the topical steroid withdrawal hell myself, these are the symptoms:
spread of rash and redness to new areas of the skin beyond the initial treatment area
a shift from itching to burning or stinging of the skin
skin redness rather than patchy (more flushed skin similar to a sunburn)
and more…
4. Alternative Eczema Creams
You might be wondering, well crap, what the hell am I supposed to use now?
Well, that's why you landed on the number one eczema blog on the planet because I've already got alternatives lined up for you my friend.
It is specifically made for eczema using organic ingredients.

It's free from steroids, hydrocortisone, parabens, alcohol, petroleum, synthetic fragrance, and toxic ingredients.

It uses a combination of Collodial Oatmeal for itchiness and inflammation, Rosehip oil for hydration, Zinc to heal damaged skin, and Tumeric for swelling and itching.

Ingredients: Olive fruit oil, Beeswax oil, Zinc Oxide, Borago seed oil, Broccoli seed oil, Calendula flower oil, Turmeric essential oil, Sunflower seed oil, Hypericum flower extract, Propolis, Rose Hip, Comfrey, Vitamin E.

Anytime Province Apothecary has a sale, I always stock up 🙂

This balm has been specifically formulated for eczema and is in a stick format.

Not only does it protect, soothe and provide relief from eczema, but it will also help with rashes, itching, insect bites, and poison ivy.

The great thing about this product is, it is also food grade which means that it's so pure and safe, you could eat it. Whoa!

Now that's what you call skin safe. All the ingredients are beneficial for the skin so it will definitely provide the relief you are looking for.

It's not marketed as an eczema lip balm because it can be used anywhere you have eczema patches.

Ingredients: Sunflower Seed Oil, Cocoa Seed Butter, Beeswax, Tamanu Oil, Calendula Officinalis Flower Extract, Chamomile Essential Oil, Evening Primrose Oil, Mixed Tocopherols (Vitamin E), Rosemary Leaf Extract, St. John's Wort Extract, Marshmallow Root  Extract, Rosehips Extract, Chamomile Flower Extract, Witch Hazel Extract, Licorice Root Extract, *Helichrysum Arenarium Flower Extract

*Please note that the link above is an affiliate link. You do get 10% off your first purchase, automatically applied ?!

I love Kalaya's Naturals Wonder Salve because it's been formulated with ingredients that are anti-bacterial and soothing to heal and protect your skin.

This is an all-natural remedy that has been made with Tea Tree Oil.

It works great for rashes, bumps, scrapes, bruises, and as a lip balm.

I've used this product on my eczema patches on my body as well and it works great!

Even though it doesn't explicitly say it's for eczema, when you take a closer look at the ingredients, it makes it a great case to be used as an eczema lip balm.

Ingredients: Rice Bran Oil, Beeswax, Olive Fruit Oil, Sunflower Seed Oil, Grape Seed Oil, Palm Kernel Oil, Caprylic/Capric Triglyceride, Shea Butter, Emu Oil, Tea Tree Leaf Oil, Thyme Oil, Palmitic Acid, Tocopherol
5. What To Do Next?
So you've come this far and have read the Polysporin Eczema Cream review.
But you are still lost because you don't want to use creams forever.
Well, in combination with these creams, you need to look at your nutrition and your lifestyle.
Beyond what you see on your skin, is there anything else that could be triggering your eczema?
Is it too much sugar? Too much dairy? Are you stressed? Maybe drinking too much?
You will need to slowly peel back the layers of your lifestyle and see where you can make adjustments.
And, if you need help with this piece, check out my XZMA Healing Program on how I help individuals with eczema heal their skin.
Related posts
Everything Eczema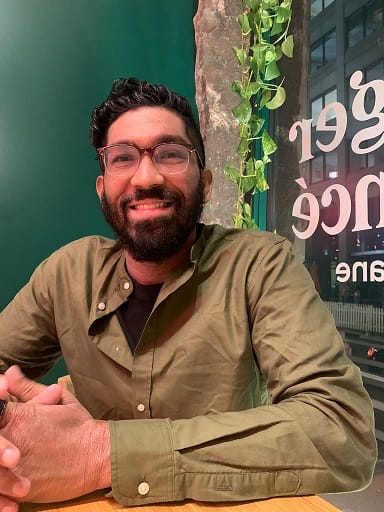 Everything Eczema was created by Kishok (Certified Nutritional Practitioner, 2023) to help the millions of people around the world who are suffering from atopic dermatitis (eczema) and topical steroid withdrawal (TSW). Our goal is to educate and empower you on how to manage your eczema so you can live your greatest life!
Learn more