The question that always gets asked when you have eczema is "can stress cause eczema?".
The answer is, 1000% yes! I know it's hard to see it, read it, and hear it.
I was in denial for most of my life too.
On the surface, I acted as if nothing fazed me.
But behind the scenes, my mind was thinking of every possible scenario from A to Z.
Even during flare-ups, I acted like this. Even during topical steroid withdrawal (TSW), I acted like this.
My inner dialogue scoffed at this question. How can stress cause eczema?
Eczema can't be cured, only managed through medications is what I've been told.
This has nothing to do with stress!
But in reality, this was hurting my healing progress.
What were my flare-ups, TSW, skin, body, and mind trying to tell me?
To stop, drop, and rest.
But today I won't be using research or scientific articles to explain can stress cause eczema.
I'm going to take this in another direction.
What You Need to Do
This is the sign you've been waiting for. This is the message you've been waiting to read.
Take a break, an extended break.

Take a sabbatical.

Take time off.
At least 30 days. 60 days is even better. 90 days is great!
The hardest thing I ever did was actually take time off.
I had to do this on three separate occasions.
All three times, it took me a few months of overthinking, planning, and stressing before I put a pause on everything.
Stepping away or pausing your education, career, or whatever you need time away from is not easy.
When you've been burning the candles at both ends, stopping seems foreign.
When all you've ever done is juggle multiple balls at once, "dropping" a ball or two makes us feel like a failure.
But can you really heal your skin when you've got too much on your plate?
We all know it's hard for humans to put their health first until our whole world is flipped upside down.
Somethings gotta give.
Are you really productive when your skin is not healthy?
Are you really enjoying life when your skin flare-ups?
Or are you just getting by because you have no option?
Maybe you don't know which area of your life to pause.
Maybe even stopping for once is causing you so much anxiety because of the uncertainty.
These are all valid thoughts.
This is why it's important to step back and ask yourself "can stress cause eczema?". Where is the stress coming from? Is eczema the source of your stress or is it something else?
Plan Ahead
When I took my 90-day break from work this past year, I was mulling over this decision for at least a few months.
The first month, it was running in the back of my mind. The next month, it was at the forefront of my mind.
I knew I couldn't continue working at my job with my skin so bad.
I talked it out with my family, some friends, and my therapist.
I planned ahead. I knew I wanted to take 3 months off from work.
Here's a checklist of options to research and take action on:
Save at least 3 months' worth of expenses (rent, food, bills, etc)

Move in with family or friends temporarily to reduce your rent

See if your government has unemployment benefits due to an illness

You will most likely need a Doctor's note for this

Talk to your Therapist
Talk to your Human Resources (HR) rep and weigh your options
Talk to your Manager to decrease your workload temporarily or plan your extended leave of absence

Check this article out on how to start the convo

Talk to a Financial Advisor or Accountant
So I saved 3 months' worth of my expenses. For the next little bit, I cut back on stuff I truly didn't need, like clothes.
I also looked into sick leave benefits or unemployment insurance from the Government.
Thankfully, my country has something like this so I was able to get some money while I was off. See if your Government has something like this.
Work with your Manager and Employer.
Give them a heads up if possible because they will appreciate it.
Let them know that you'll be taking an extended leave of absence. Your employer may even have sick leave benefits through employee insurance.
You also want to talk to HR to see and weigh your options.
Even if by the time you plan everything out and your skin has gotten better, I still recommend taking time off.
Here's why.
Your Health is Tied Directly to Your Wealth
I know, it's the old cliche saying, your health is your wealth.
But it's true.
We've experienced this firsthand.
The amount of time and money we put into maintaining our skin.
The amount of time and money we put into researching cures, tricks, hacks, and remedies.
The amount of time and money we spend finding the next best product, medication, cream, lotion, or supplement.
The amount of time and money we spend looking for the right Doctor, Dermatologist, Naturopath, Coach, etc.
You and I are doing ALL THIS while trying to live the typical 9-5 life.
Balancing school, work, social life, traveling, your goals, and everything else that life throws your way.
But where is the time to rest, heal and reset?
The longer you just "get by" with your skin, the more time and money you are putting in just to maintain the status quo.
You are not really moving forward or backward.
You are just stuck. This is how I felt for most of my life.
Sometimes, we need to let all the balls fall down that we are juggling.
Sometimes, we need to stop burning the candle not only on one end but both.
So you can rest. So you can heal. So you can reset.
Taking a day off here and there or taking extending a long weekend is not the same actually taking an extended leave.
Knowing that you can truly rest for the next 3 months will do wonders for your mental health.
You won't be worrying that work is coming up or you have something due for school.
Give yourself space and time to truly rest and heal.
Your Next Steps
You probably now realized the answer to the question, "can stress cause eczema?".
You might feel stuck because you don't know what to do.
This may feel overwhelming or daunting.
But it doesn't have to be.
Sometimes, all you need is a little bit of guidance, coaching, and support.
If this resonates with you on some level, book a complimentary 30 min call with me on how I can help you!
PS. I hope you take some time off soon so you can really reflect on "can stress cause eczema?" for you.
Related posts
Everything Eczema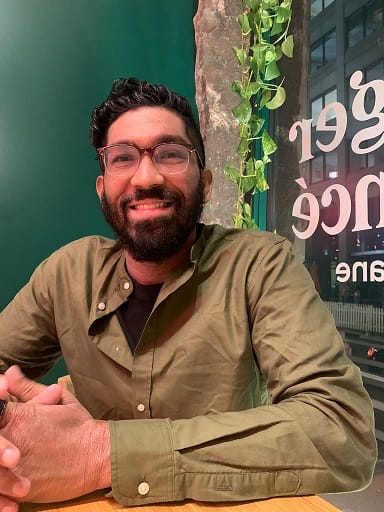 Everything Eczema was created by Kishok (Certified Nutritional Practitioner, 2023) to help the millions of people around the world who are suffering from atopic dermatitis (eczema) and topical steroid withdrawal (TSW). Our goal is to educate and empower you on how to manage your eczema so you can live your greatest life!
Learn more