Are you looking for the best eczema lip balm?
Well, look no further!
Below I'll be reviewing my favourite top 5 eczema lip balms along with a bonus!
I am very selective when it comes to putting any type of cream, lotion, or balm on my skin.
After going through topical steroid withdrawal, I don't take any more risks.
I research the company and what kind of ingredients they use.
I make sure the ingredients used in these products are natural, safe, and non-toxic.
Without further ado, below are my top 5 favorites!
*This post contains affiliate links. This means, at no additional cost to you, if you purchase the product, I will receive a commission. These commissions help pay for website hosting and to spread the word on healing eczema!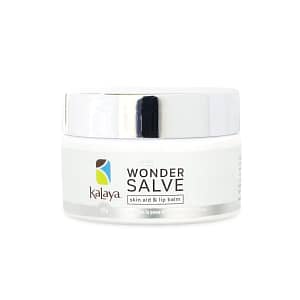 Why?: I love Kalaya's Naturals Wonder Salve because it's been formulated with ingredients that are anti-bacterial and soothing to heal and protect your skin.
This is an all-natural remedy that has been made with Tea Tree Oil.
It works great for rashes, bumps, scrapes, bruises, and a lip balm.
I've used this product on my eczema patches on my body as well and it works great!
Even though it doesn't explicitly say it's for eczema, when you take a closer look at the ingredients, it makes it a great case to be used as an eczema lip balm.
Ingredients: Rice Bran Oil, Beeswax, Olive Fruit Oil, Sunflower Seed Oil, Grape Seed Oil, Palm Kernel Oil, Caprylic/Capric Triglyceride, Shea Butter, Emu Oil, Tea Tree Leaf Oil, Thyme Oil, Palmitic Acid, Tocopherol
Price: $10-14 CAD/USD
Final Thoughts: I honestly wish they made a bigger size of this.
I know its intended use is for a lip balm but it honestly works great all over the body.
The price is a little expensive for the amount you get but it's a high-quality product that will work great for your lips.
The only downside is that it is not in a stick but in a small glass bottle.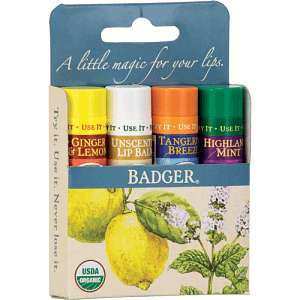 Why?: Badger Balm is one of my favorite skincare brands.
All their balms use natural and non-toxic ingredients.
They are USDA Certified Organic as well.
Their lip balms are based on organic extra virgin olive oil and beeswax.
They've also added ingredients such as Seabuckthorn, Rosehip extracts, and Aloe Vera Extra to support, protect and heal the lips.
Ingredients (Base): Because this product comes in 4 different flavors, I'm only going to list the base ingredients: Organic Extra Virgin Olive Oil, Organic Beeswax, Organic Castor Oil, Organic Aloe Extract, and CO2 Extracts of *Organic Rosemary, Organic Seabuckthorn &Organic Rosehip,
Price: $18-20 CAD/USD
Final Thoughts: You can't go wrong with Badger Balm's Classic Lip Balm if you are looking for an eczema lip balm.
Even though it's not specifically formulated for eczema, it uses a lot of beneficial ingredients for eczema.
This one is in a stick format if that's what you are looking for.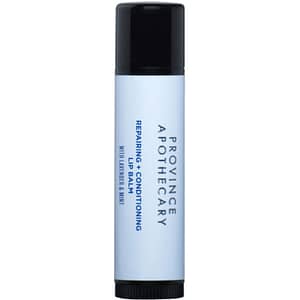 Why?: I know I keep saying this but Province Apothecary is also one of my favorite brands.
The founder of Province Apothecary herself had eczema and was inspired to create skin-friendly products using natural ingredients.
All of their products are free of fillers, pesticides, dyes, petroleum, synthetic chemicals + fragrances, GMOs, and animal testing.
This blend uses Calendula to hydrate dry and cracked skin.
They've included Lavender to soothe and repair your lips while Peppermint is added to bring blood to the surface of your lips to support the skin cells.
Ingredients: Sunflower seed oil, Beeswax, Calendula oil, GMO-free Vitamin E, and therapeutic essential oils of Lavender*, Rosemary, Peppermint and Myrrh.
Price: $8-10 CAD/USD
Final Thoughts: This is another great product if you are looking just for an eczema lip balm.
It comes in a stick format so you can take it anywhere you go.
It is expensive for a lip balm but they use high-quality ingredients that are safe for your skin. So it's worth the investment.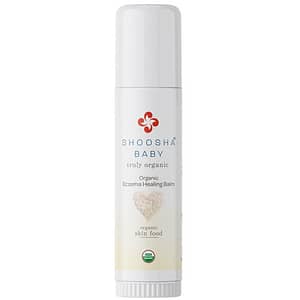 Why?: This balm has been specifically formulated for eczema and is in a stick format! Win-win!
Not only does it protect, soothe and provide relief from eczema, but it will also help with rashes, itching, insect bites, and poison ivy.
The great thing about this product is, it is also food grade which means that it's so pure and safe, you could eat it. Whoa!
Now that's what you call skin safe. All the ingredients are beneficial for the skin so it will definitely provide the relief you are looking for.
It's not marketed as an eczema lip balm because it can be used anywhere you have eczema patches.
Ingredients: Sunflower Seed Oil, Cocoa Seed Butter, Beeswax, Tamanu Oil, Calendula Officinalis Flower Extract, Chamomile Essential Oil, Evening Primrose Oil, Mixed Tocopherols (Vitamin E), Rosemary Leaf Extract, St. John's Wort Extract, Marshmallow Root  Extract, Rosehips Extract, Chamomile Flower Extract, Witch Hazel Extract, Licorice Root Extract, *Helichrysum Arenarium Flower Extract
Price: $13-17 CAD/USD
Final Thoughts: It's an excellent and safe product that will definitely help heal your eczema.
Even though it's in a stick format, you could also use it on eczema patches if need be.
However, it is pricey for the amount you get but with reason.
If you want something of the highest quality for yourself or your baby, and the price is not an issue, this is what you've been looking for.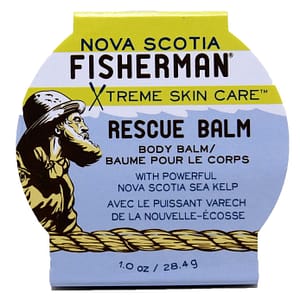 Why?: Nova Scotia's Fisherman Rescue balm is an all-natural balm made with raw ingredients.
They use a blend of Chamomile, Nova Scotia Sea Kelp and Aloe extract to soothe and relieve irritated skin.
Even though it isn't formulated specifically for eczema, it has all the ingredients needed for an eczema lip balm or skin balm.
They also do not test on animals, petroleum, and paraben-free ingredients.
Ingredients: Olive Oil, Beeswax, Shea Butter, Coconut Oil, Jojoba Seed Oil, Fucus Nova Scotia Sea Kelp, Castor Oil, Rosehip Oil, Aloe Leaf Juice, Tocopherol (Vitamin E), Lavender, Styrax Benzoin, Tea Tree Oil, Rosemary, Geranium, Chamomile Oil
Price: $8-10 CAD/USD
Final Thoughts: Even though this isn't a lip balm per se, it checks off all the boxes in my books.
It's not in a stick format but it's still small enough to take on the go.
You can use it on your hands and body if you'd like to.
I like that it's budget-friendly while still using natural ingredients. If you want to try something different, this one is for you!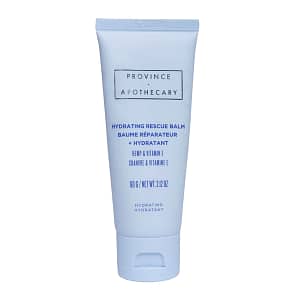 Why?: Another great product from Province Apothecary.
I know this is about lip balms but I could not leave this out for my eczema warriors.
Even though it's not considered an eczema lip balm, it is still a skin balm.
It is specifically made for eczema using organic ingredients.
It's free from steroids, hydrocortisone, parabens, alcohol, petroleum, synthetic fragrance, and toxic ingredients.
It uses a combination of Colloidal Oatmeal for itchiness and inflammation, Rosehip oil for hydration, Zinc to heal damaged skin, and Tumeric for swelling and itching.
Ingredients: Olive fruit oil, Beeswax oil, Zinc Oxide, Borago seed oil, Broccoli seed oil, Calendula flower oil, Turmeric essential oil, Sunflower seed oil, Hypericum flower extract, Propolis, Rose Hip, Comfrey, Vitamin E.
Price: $18-19 CAD/USD
Final Thoughts: This is a great product to use on your face, neck, hands, and lips.
Even an eczema patch on your body.
I just wish the price point of the product could be a little bit bigger.
It's also not in a stick format but can still easily be carried in your jacket or thrown into your bag.
Beyond the Balm
You might be wondering will this cure eczema on my lips? It might.
But it also might not.
These are all excellent products to keep eczema at bay so it doesn't get worse.
But you also need to be proactive about your healing journey.
Don't be reactive anymore and scramble for appointments, supplements and quick fixes.
If you are ready to:
✓ Be confident in your skin
✓ Say goodbye to sleepless nights
✓ Say goodbye to the endless itching
✓ Clear your red, inflamed & irritated skin
✓ Be comfortable wearing t-shirts and shorts
It's time for you to sign up for the XZMA Coaching Program and get your skin back on track.
Booking Provided by Healthie
Related posts
Everything Eczema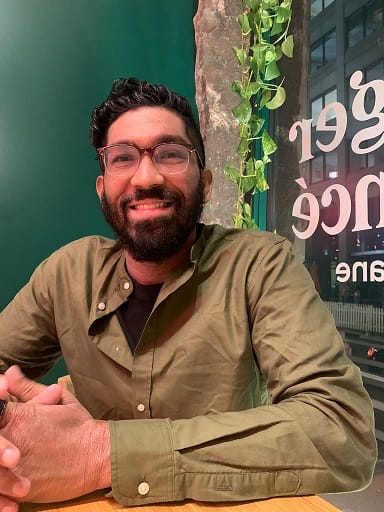 Everything Eczema was created by Kishok (Certified Nutritional Practitioner, 2023) to help the millions of people around the world who are suffering from atopic dermatitis (eczema) and topical steroid withdrawal (TSW). Our goal is to educate and empower you on how to manage your eczema so you can live your greatest life!
Learn more