After a lifetime of battling eczema and then going through topical steroid withdrawal, I have always looked for the best eczema relief creams that are affordable and effective.
In this article, I will be helping you decide "Which Aveeno Cream is Best for Eczema?" and reviewing three different affordable options in order to help you find the one that is best for you.
I hope that the information in this article helps you make your decision to purchase the best eczema cream.
And as a bonus, I'm even going to list a product that uses more natural ingredients than Aveeno!
*This post contains affiliate links. This means, at no additional cost to you, if you purchase the product, I will receive a commission. These commissions help pay for website hosting and spread the word on healing eczema!
1. So Which Aveeno Cream is Best for Eczema?
If you are looking for a cream to help your eczema, you may be wondering which Aveeno cream is the best one for you.
Below are three options and my verdict!
If you are interested in the details of each product, keep on reading!
Winner: Aveeno Baby Eczema Care Moisturizing Cream
Runner Up: Aveeno Eczema Care Itch Relief Balm
Aveeno Eczema Care Moisturizing Cream
There are three affordable options available that you can choose from when it comes to eczema.
Aveeno also has a line for dry and sensitive skin but we'll review that at a later time.
All three are affordable and can be found at your local pharmacy.
The great thing is, you can't go wrong here. Aveeno has been a trusted skin care product for years and is recommended by Doctors.
But how do I know which one to pick?
Let me break it down for you.
2. How to Choose the Best Aveeno Eczema Cream
Having eczema can be a real pain. It can be hard to find a product that actually works for your skin.
There are many different creams on the market that claim to be the best for eczema, but there is no one cream that is best for everyone.
There are a few ways to figure out which Aveeno cream is best for you.
You can take a look at reviews from people who used the product.
You can also look for ingredients in the cream which I always recommend people do.
If you can find a sample size or a small quantity, I recommend that before buying a bigger bottle.
Here is a quick checklist you can follow:
Ingredients
Is there a sample size or a smaller version to test out first?
Price per quantity (will help you determine how long it will last)
Have you read reviews?
Below is a summary of the benefits of each Aveeno Eczema Cream.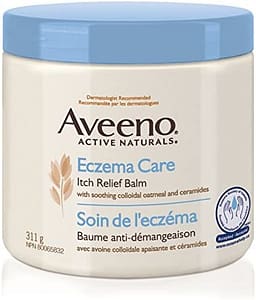 Mainly used for itch relief
Moisturizes and soothes itchy skin
Helps to protect the skin
Steroid free
Paraben free
Fragrance-free
Hypoallergenic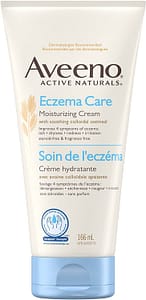 Mainly used to help with dryness, redness, irritation, and itching
Helps moisturize the skin barrier
Strengthen the skin barrier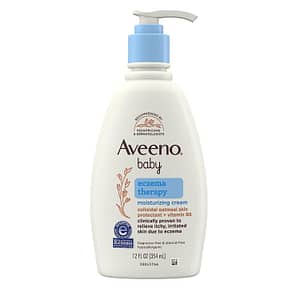 Help protect and strengthen the skin's barrier
Prevents dryness
Reduce minor skin irritation and itching
Fragrance-free
Free of parabens, phthalates, and dyes
Steroid-free
Non-greasy and hypoallergenic
Accepted by the Eczema Society of Canada
So which Aveeno cream is best for eczema…for you? Because everyone's eczema is different.
And don't be afraid to products that are targeted for Babies.
They are just as great if not better and always safer in terms of ingredients.
Because no one messes with a baby.

3. How to Use the Cream
The first thing you need to do is always take a bath or shower in warm or lukewarm water.
I know, that's hard to do. I love taking showers in HOT water but it also dries out my skin.
The best time to apply creams or balms is right after a bath or shower.
Why? Because the pores on your skin are now open and ready to properly absorb the beneficial ingredients.
Once you pat yourself dry…not scrape yourself off with the towel like I do…it's time to apply the cream.
This is for all creams and balms, not only for Aveeno creams.
Maybe these Aveeno creams are not working for you and you are looking for alternative options.
Well, you are at the right place, the best eczema blog on the planet!
Below are my two favourite options:
It is specifically made for eczema using organic ingredients.

It's free from steroids, hydrocortisone, parabens, alcohol, petroleum, synthetic fragrance, and toxic ingredients.

It uses a combination of Collodial Oatmeal for itchiness and inflammation, Rosehip oil for hydration, Zinc to heal damaged skin, and Tumeric for swelling and itching.

Ingredients: Olive fruit oil, Beeswax oil, Zinc Oxide, Borago seed oil, Broccoli seed oil, Calendula flower oil, Turmeric essential oil, Sunflower seed oil, Hypericum flower extract, Propolis, Rose Hip, Comfrey, Vitamin E.

Anytime Province Apothecary has a sale, I always stock up 🙂

This balm has been specifically formulated for eczema and is in a stick format.

Not only does it protect, soothe and provide relief from eczema, but it will also help with rashes, itching, insect bites, and poison ivy.

The great thing about this product is, it is also food grade which means that it's so pure and safe, you could eat it. Whoa!

Now that's what you call skin safe. All the ingredients are beneficial for the skin so it will definitely provide the relief you are looking for.

It's not marketed as an eczema lip balm because it can be used anywhere you have eczema patches.

Ingredients: Sunflower Seed Oil, Cocoa Seed Butter, Beeswax, Tamanu Oil, Calendula Officinalis Flower Extract, Chamomile Essential Oil, Evening Primrose Oil, Mixed Tocopherols (Vitamin E), Rosemary Leaf Extract, St. John's Wort Extract, Marshmallow Root  Extract, Rosehips Extract, Chamomile Flower Extract, Witch Hazel Extract, Licorice Root Extract, *Helichrysum Arenarium Flower Extract
But These Creams Aren't Working…
Creams will only help heal your eczema so much.
They only target the outer layer of your skin.
While this is great, you also need to work on healing from the inside out.
How can you do this?
Start working on these three things:
Nutrition
Lifestyle
Emotions
If you are new to managing your eczema from a holistic standpoint, check my other posts here:
Holistic Approach to Eczema? 3 Effective Tips
4 Benefits of Dead Sea Salt Baths for Eczema You Need to Know
5 Best Vitamins for Eczema You Need in Your Diet
If you are still stuck and need a little bit of guidance, coaching, and support, check out my XZMA Healing Program!
Related posts
Everything Eczema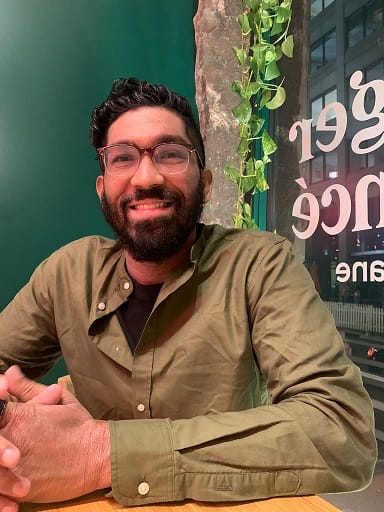 Everything Eczema was created by Kishok (Certified Nutritional Practitioner, 2023) to help the millions of people around the world who are suffering from atopic dermatitis (eczema) and topical steroid withdrawal (TSW). Our goal is to educate and empower you on how to manage your eczema so you can live your greatest life!
Learn more